National Inclusion Week 2021
Last week was Inclusion Week, a national initiative to help organisations celebrate everyday inclusion in all its forms. Renaisi colleagues organised a week of events, to learn and improve together. Research and Evaluation Consultant, Waseem Meghjee summarises the events here.
Monday: In our first #NationalInclusionWeek2021 'lunch and learn' event colleagues shared how they make our employment services inclusive. It was a wide-ranging discussion about the structural barriers marginalised communities face in finding and sustaining work, the intersectionality of different needs like housing, and social isolation, and the benefits of having a diverse and reflective staff base when delivering our services.
Tuesday: We had a discussion about individual experiences and ideas of inclusion so we could learn what inclusion means to each other. For this exercise, we randomly assigned everyone into groups of two or three and put together a guide for the discussion, including asking colleagues to think of a time when they felt included.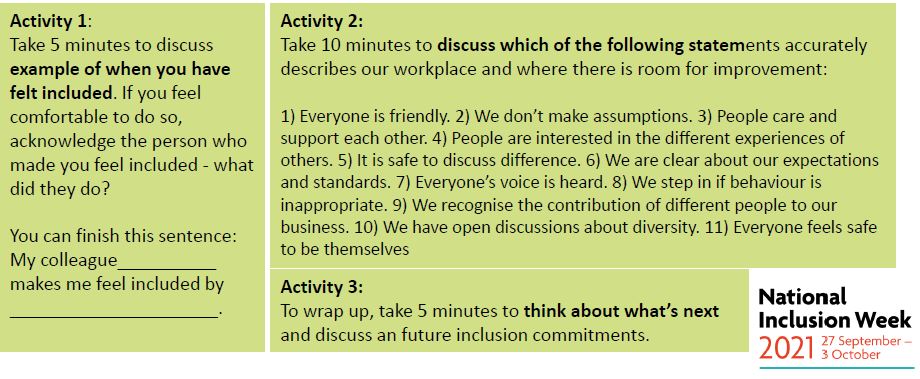 Wednesday: Hannah Brooke, Employee Engagement Manager, and former colleague Marwah Aziz presented a webinar to an employer based on our inclusive recruitment guidance.
Thursday: We held an Inclusion Quiz which was a lot of fun and surfaced some interesting information that we discussed as a group:
The World Health Organsiation state that 15% of the world's population experiences some form of disability.
The first black CEO of an FSTE100 company was appointed just over 10 years ago.
The story of Maureen Colqhoun, who was UK's first openly lesbian member of parliament.
Friday: we held another 'lunch and learn' hosted by three of the internal initiative groups about how they help to make Renaisi more inclusive: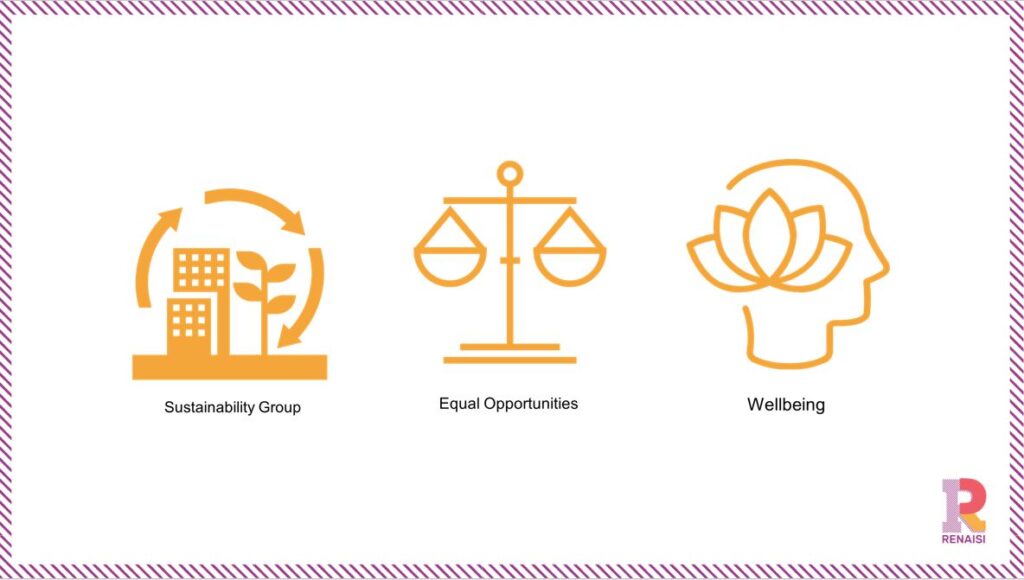 For the sustainability group, John Williams spoke about the direct link between the impact of the climate crisis and privilege, with women and minoritised communities bearing more of the consequences. He also spoke about the work of the Sustainability group, which includes creating a framework and policy to make Renaisi more sustainable, hosting events around topics like food waste awareness and sharing practical tips on becoming more sustainable while working from home. For example we've all been encouraged to switch our web browser to Ecosia.
For the wellbeing group, Marie Nichols spoke about how inclusion is key to having an environment that is conducive to positive wellbeing, particularly in the case in the context of Covid-19 and its impact on everyone's mental health. Marie is currently analysing the results of a wellbeing survey so we can develop a wellbeing action plan.
For the Equal Opportunities group, Waseem Meghjee spoke about how inclusivity is central to Renaisi's development and shared recent progress like including diversity and inclusion questions in the staff survey, reviewing our recruitment policies and process to ensure we are as inclusive as possible, and finally developing our internal understanding of equal opportunities by looking at the wheel of power and privilege.
To find out more about life at Renaisi, visit the careers page.