About Us
Renaisi is a social enterprise that helps people and places to thrive.
We started life in Hackney Council in 1998 to spearhead the regeneration of the borough. Today we work in London and beyond as a leader in place-informed social change.
What we do
We do three complementary things:
In London, we deliver programmes that help people overcome disadvantage and exclusion.
We work with institutions across the UK to research, evaluate and increase their impact on communities.
We generate learning from across our work to explore the question: what does it take to improve a place?
Our model allows us to work with all of the stakeholders that can turn a place into a thriving community, and gives us a unique insight and ability to spark change.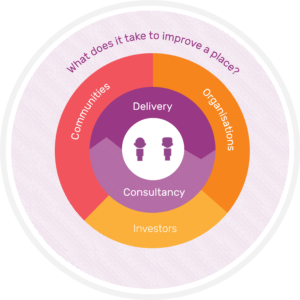 Working in this way gives us first hand insight into the issues facing both individuals and communities. We believe that the challenge of changing a place and creating wider impact can only happen when we better understand and look at the systems that influence the individuals, communities and organisations that make up that places.
We believe that our starting point should be to ask a question rather than jump to a preconceived answer about what it takes to improve a place.