A day in the life of an Outreach & Engagement Officer
Find out what it's like to work at Renaisi as Kaviya Selvamanickam, Outreach & Engagement Officer, shares her experience of building partnerships to register job seekers onto our employment programmes.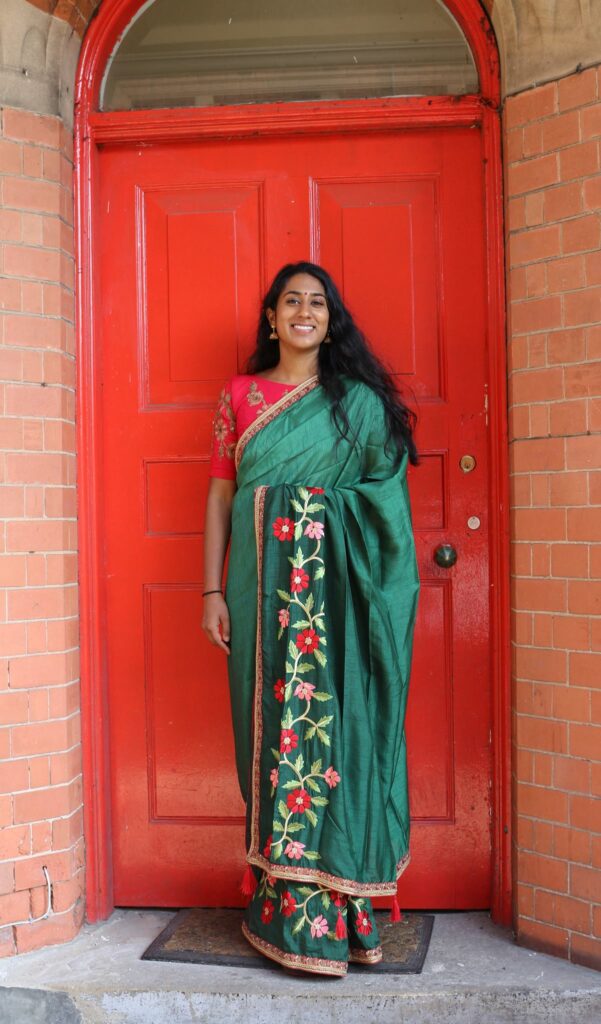 As an Outreach and Engagement Officer, it's my job to sign people onto Renaisi's employment programmes, Inspiring Families and RISE (Refugees Into Sustainable Employment). I do this by making links with organisations that work with people who need employability support to identify who would benefit from Renaisi's support.
It's my first job since graduating from the University of Sheffield in MSc Environmental Change and International Development. After my studies I wanted a chance to work with vulnerable communities. My Sri Lankan Tamil parents sought refuge in Norway before moving here, so I am particularly interested in working with refugees. There's an emotional connection.
I started the Outreach and Engagement job in February 2020 so I had a couple of weeks of shadowing my colleagues before we went into lockdown.
A typical day
I start every day with two 15-minute phone calls. First with the Inspiring Families team and then with the RISE team. We share updates and go over our numbers: we have a weekly registration target to hit.
Once the team updates are done, I start making calls to customers who have been referred to us by partner organisations. I use these calls to assess whether the job seeker is eligible for one of our employment programmes. If they are, I book them in for an appointment with an employment advisor and make sure they have all the necessary documents needed to register onto the programme.
I did lots of research projects at university where I learned to do interviews and surveys with remote communities and marginalised people. My studies taught me to listen with empathy, which helps me with the calls I make to potential customers. Each call is a bit like a research project.
We work with a lot of refugees so I use a service called Big Word to help break down language barriers, things still get lost in translation sometimes though. Those who do qualify for our programmes can access our ESOL and English classes for free.
Once I've spoken with potential customers, I usually have meetings with local organisations to discuss Renaisi's services and how we can work together to cross-refer job seekers.
Working in partnership to cross-refer customers
Before lockdown I met with a bunch of organisations to talk about how Renaisi can help their customers, and more generally how we can work collaboratively to signpost and support their customers and ours. I have continued to make links and build relationships with local organisations throughout lockdown. I just do it all online or over the phone now.
Making new connections with community organisations and selling what we can do for refugees is a highlight of my job. Whenever I pitch Renaisi's services to a new organisation I explain that our customers get dedicated one-to-one support from a case worker to find the right job, and importantly they get help with other aspects of settling into UK life. That could be support to complete Universal Credit applications, filling in school forms, confidence building classes, peer mentoring, IT training; we can even cover the cost of travelling to interviews and suitable clothing for work.
Highs and lows of the job
It's disheartening when a customer has qualifications from their home country that are not applicable in the UK. But most customers know this before they join us and they're prepared to retrain to get back to the level they used to work at. Recently we've partnered with Transitions, a Community Interest Company, that provides specialist industry-focused work placements in the engineering, architecture and business services sectors. It means we can now offer employment opportunities to talented and highly-qualified refugees.
The best bit of the job is when I get messages of thanks from customers who've found jobs or when I hear stories from my colleagues about people benefitting from our support services.
What I've learnt
Since starting work at Renaisi I've learned that helping someone get a job is not a straightforward process, there are many hoops to jump through. A person might want a job, be really motivated and have great skills but they also need good English, secure housing, childcare, and the confidence to go for interview. These things all need to be in place before you can get a job and it takes a network of people and organisations to do that.
As an employment services team, everything we do has a purpose and that is to help individuals to develop personally and professionally so they can build a better life for themselves and their family.