Exploring a holistic approach to levelling up
At the last meeting of our place-based systemic change community of practice, Beth Stout spoke to Ade Adebowale about his experience delivering holistic employment services in Lambeth and Southwark. Here Renaisi's new Place-Based Project Manager Kezia Jackson-Harman reflects on their conversation.
A month into my role as Place-based Project Manager at Renaisi, I attended my first community of practice meeting where my colleague Ade Adebowale, Programme Manager, reflected on his experience working as part of the No Wrong Door initiative with Black Thrive and community partners across Lambeth.
The initiative takes a holistic approach to supporting Black Lambeth residents with long-term health conditions and experience of unemployment. While Renaisi has long-standing experience delivering place-based employment programmes across Lambeth, this pilot has been unique in targeting the system itself, explicitly aiming to establish a co-ordinated and collaborative network which can deliver meaningful employment. Black Thrive, Renaisi and the five other health service and employability providers in Lambeth believe that individuals with complex needs and desires are unlikely to be met by a single service. The focus is not just on delivering jobs but on developing personalised action plans which account for individual circumstances and ambitions, utilising the shared expertise of the collaborative to support residents to pursue their goals.
6 principles for working holistically with communities
Ade and others in the community of practice shared their struggles and sticking points, their victories, and experiences of advocating for and trialling holistic approaches to place-based work. When I reflected on these after the session, six points stood out as integral to building a holistic approach.
We must step out from our specialisms and work across silos. Working alongside those with different expertise is vital to ensuring holistic service provision.
An individual's journey to change is unlikely to follow a linear trajectory. It might be one step forward two steps back. To provide holistic support you must be willing to go on this journey with them and accept there is no single, linear progression route to suit everyone.
We must give up ownership and control of an individual's journey. The need to attribute change to a single organisation or programme stifles the potential for holistic approaches.
We must build in time for listening. This means taking time to understand the expertise of partners and come to a shared understanding of the change they hope to make. Without accounting for the time needed to build these relationships across service providers, it is impossible to establish the trust needed to ensure the people accessing support experience a holistic system.
Putting people with lived experience of siloed services and dysfunctional systems at the centre of these collaboratives is key to hold partners to account and ensure that services do not retreat to the status quo. This must be at all levels of the work: from the service design; where providers must sit alongside those with lived experience as partners to shape the holistic approach, to the service delivery; where building equitable relationships are essential to establish ownership of change and avoid slipping into a pattern of the professional dictating solutions to the client.
We need to be more accepting of risk and trusting of the organisations we collaborate with when data sharing, handing over work and designing support. This often means building the infrastructure to enable these things to be done in a safe and effective way.
Listen to Ade and Beth's conversation in this 15-minute recording from the meeting:
Levelling up in practice series
This session was the first of our series exploring how we can collectively drive inclusive and sustainable place-based change in the context of the Levelling Up agenda.
Renaisi has identified four key concepts essential to place-based systemic change which were under-explored in the Levelling Up white paper:
Taking a holistic approach to change
Distributed power, accountability and leadership beyond the model of a single local leader
Acknowledging the root causes of injustice

Improved use of

data
As our discussion progressed it became clear that the white paper was far from front-of-mind for members of the community. For practitioners, funders and others exploring place-based systemic change, levelling up is more than a political catchphrase, or a 300-page document of disjointed commitments. It is the day-to-day relational change they have been visioning, piloting and refining over years, within systems ready to slip back to their state of inertia at any moment.
Levelling up is the day-to-day relational change community of practice members have been visioning, piloting and refining over years, within systems ready to slip back to their state of inertia at any moment.
Place-based systemic change community of practice
In the next year, we plan to use the community of practice to explore how the skills, experience and learning about place-based approaches that our sector has accumulated over years can ensure that additional funding and prioritisation given to place-based policies are delivered in a way that can bring about meaningful change.
The session left me with a renewed conviction of the collective expertise held by those working within this space and the willingness of all those in this space to share learning. As the group becomes more established and relationships grow, it feels like there is a lot to gain from a space for openness and solidarity in driving place-based system change.
In my role as Place-Based Project Manager at Renaisi I facilitate local partner networks, manage place-based research and evaluation projects, and support the adoption of place-based and systemic change approaches within Renaisi. As part of the team behind our Community of Practice you'll see me at the sessions, where I hope to both build and learn from expertise in place-based systemic change.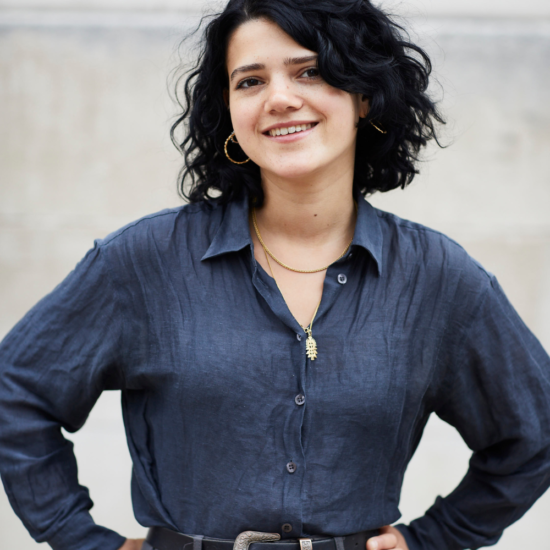 Want to find out more?
Contact Kezia Jackson-Harman on: