Renaisi partners with Transitions to offer a comprehensive package of employment support for refugees
Renaisi is working in partnership with Transitions to increase our capacity to support refugees to find employment, and build a more inclusive workforce.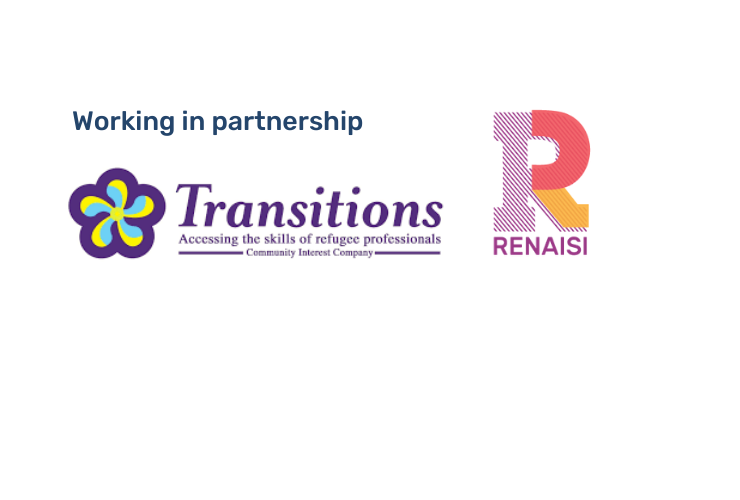 Renaisi and Transitions both work to address the disadvantages refugees face when securing and sustaining employment. The mutual capacity building partnership involves sharing learning, upskilling staff, and a new post for a Sector Engagement Manager.
We're passionate about creating the conditions for strong, inclusive communities to thrive. The purpose of all Renaisi employment programmes is to help people to find and sustain work so they can build a better life for themselves and their family. Transitions, a Community Interest Company, provides specialist industry-focused work placements in the engineering, architecture and business services sectors, giving highly skilled, professional refugees access to opportunities with some of the UK's largest firms including ARUP, Unilever, and National Grid.
Renaisi has been delivering 'RISE' to support refugees into sustainable employment since 2017. RISE serves 10 London boroughs and offers free English lessons, help searching for an applying for jobs, and advice from a friendly employment adviser to help them find their place in society, and to sustain work when the time is right.
RISE is funded by the European Social Fund and The National Lottery Community Fund until 2022.
Transitions and RISE together form a comprehensive package of employment support for refugees at different stages in the employment journey.
A more inclusive jobs market
Refugees who arrive and settle in the UK experience significant disadvantage when it comes to employment.
Refugees experience high levels of unemployment and those who are employed are often working in low skilled jobs with earnings far below the national average. That is the case even when they have both skills and qualifications. Refugees from all backgrounds often face unconscious bias and discrimination in the hiring process, which means employers are missing out on the skills and experience that refugees bring to the labour market.
Supporting refugees and migrants into work in the UK plugs skills gaps and helps to build strong, diverse teams.
Apply for the Sector Engagement Manager post.
Find out more about Transitions