Our Team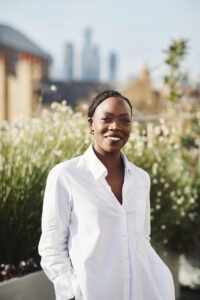 Natsayi Sithole
Deputy Chief Executive
Natsayi Sithole
I am Renaisi's Deputy Chief Executive. Working alongside John Hitchin, I run the business, work to build our business for the future, drive our evolving strategy, and increase understanding of our impact.
About Natsayi
I have a decade of experience working for UK charities and NGOs, in a range of positions spanning fundraising, business development, design, operations, governance, and strategy.
I care about changing organisations and their practices from the inside out. I am interested in how the dominant assumptions and practices underpinning those 'boring essentials' can either drive or impede impactful work from taking place, and how we all sustain dynamics that cultivate inequity, short-termism, power or resource hoarding, competition, and other systemic problems through our approaches to them.
This matters in the face of rising socioeconomic challenges and our collective responsibility to be deeply intentional in what we design, reinforce, and co-sign.
My background in the charity sector – both working for the most complex and large national and international charities in the system, as well as supporting smaller, grassroots, and specialist organisations – has allowed me to explore some of these questions and test alternatives.
Prior to joining Renaisi in 2022, I held various senior roles at Save the Children UK including Chief of Staff and Head of Strategy and Business Development for the UK Impact Team. As Head of Strategy and BD I focussed on tackling early childhood inequalities across the four nations, through place-based systems change initiatives, public campaigning, and policy influencing. Through the latter, I commissioned Renaisi to help us and others explore what it takes to fund place-based systemic change.
Prior to that, in 2015 I created and led an experimental unit at Barnardo's testing a service-design and innovation approach that leveraged philanthropic capital to meet unmet needs of children and young people. We launched £1.2m of new co-designed, child-centred projects in the initial pilot period. The approach and learning influenced Barnardo's ten-year strategy and the development of the Barnardo's Foundation.
About Natsayi's work at Renaisi
As well as sharing responsibility for several areas of the business and I lead our direct work with people locked out of the labour market and our place and systemic change work.
My job is mostly about exploring what's next for Renaisi, working with a range of partners and across the full breadth of our offer to do so. We want to deepen our understanding of what more than 20 years of our work has contributed to and be intentional about our value for the next 20 years too.
We are mission driven with questions of place at the core of everything we do. We are unique in that we combine consultancy with real world experience of working directly with communities. The questions I explore include, how can our expertise and position in the social sector ecosystem complement and amplify the work and impact of others? Where can we add more value to the sector as firm of thinkers and doers? What could change because of our contribution?
Crucially, how do we need to change ourselves to play a more useful role?
Specialisms
Charity strategy, programme design, innovation
Philanthropy and the non-profit funding ecosystem, including the role of power and participatory approaches
Organisational strategy, culture, governance, and alternative modes of organising
Portfolio
Renaisi's employment & advice service delivery and evolution
Place-based and systemic change development, collaboratives, and consultancy