Our Team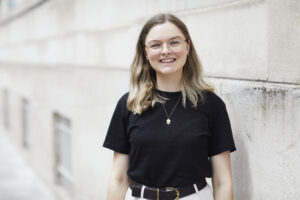 Molly May Calland
Researcher
Molly May Calland
I have been working as a Researcher within Renaisi's Consultancy Team since April 2022. I work across a range of projects that support different organisations with research, evaluation, and learning.
My Skills and Experience
I am an experienced researcher, having worked as a Research Assistant for The Leprosy Mission England and Wales and more recently as a Researcher for The Salvation Army. In these roles I have been responsible for conducting interviews and surveys, analysing data, undertaking literature reviews, and writing reports and briefings. I have worked on research across a diverse range of topics including beneficiary feedback mechanisms, health system challenges in Ethiopia and colonial legacies within the charity sector.
I hold an MA in International Development. Whilst writing my Masters dissertation I participated in a placement with the charity Kids Club Kampala and conducted fieldwork with their clients to explore the impact of their vocational skills training programmes on women's empowerment, opportunities, and choices. I also hold a BA in History.
In 2019 I participated in International Citizenship Service and spent 3 months volunteering with VSO in Cambodia, alongside local volunteers. I lived with a host family and a fellow Khmer volunteer in a small village in the Kampong Chhnang Province. Our team worked with local schools and youth groups to improve young people's knowledge and skills relating to employment and entrepreneurship.
My Hobbies and Interests
In my spare time I enjoy playing tennis and swimming. I have also been trying to improve my sewing skills and have so far successfully made a top.