Our Team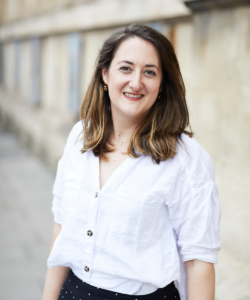 Beth Stout
Associate Director of Place & Systemic Change (on maternity leave from 9 May 2023)
Beth Stout
As Associate Director of Place and Systemic Change, Beth helps people and partnerships to build understanding and address the interconnected issues and injustices that persist in society.
About Beth
With a background in the charity sector, Beth has worked with individuals, organisations, and collaborations to explore long-term systemic change across issue areas including health, children and young people, and community development.
Beth has a deep understanding of issues relating to funding, cross-sector collaboration, and programme design and delivery. Her main area of interest is how the ways we go about making change affect the outcome itself.
In practice, this means understanding the power dynamics at the centre of any effort to make change on a social issue and ensuring those power dynamics are not reinforced. It also means understanding everyone that is connected to a particular issue, and the roles they play in it, to ensure change isn't made in isolation. Beth believes this is possible by making time to build relationships, thinking intentionally about values and beliefs, and identifying power dynamics and structures.
Before joining Renaisi, Beth led the development of Save the Children's Early Learning Communities, a place-based systems change initiative in five communities across the UK. This gave her significant experience in setting up governance, funding, learning, and co-production approaches for place-based projects. Prior to that, Beth worked on systems change across the NHS.
Beth is an accomplished facilitator, with a background in coaching and supporting individuals leading local change, as well as facilitating partnerships to explore their own local systems and develop shared strategies.
Beth's work at Renaisi
Beth owns Renaisi's portfolio of systems change work and our place-based partnerships. Beth works with several local partnerships and organisations to embed place-based approaches and systems change principles in their work. This spans Renaisi's place-based development work, our delivery of place-based services, and our place-based consultancy offer.
Working closely with Renaisi's Principal for Place-Based Learning and Evaluation Lily O'Flynn, Beth ensures our learning about place-based systems change supports our approach to learning and evaluation for place-based projects.
Beth leads Renaisi's Place and Systems Change team and works with our HR team to embed the principles of systemic change in our own ways of working.
Specialisms
Design and delivery of place-based systems change programmes
Systems change principles and practice
Systemic approaches to funding
Understanding progress towards systemic change
Training and facilitation on place-based approaches, systems change, and leading change
Portfolio
Project Director for exploring a systemic approach to grant funding with Hackney Council
Project Director for learning partnership on driving systemic change in women's poverty with Smallwood Trust
Project Director for developing a City of Sanctuary strategy with Newcastle City Council
Project Director for exploring the Big Local programme through a systems change lens
Specialist Advisor for Youth Futures Foundation's Connected Futures programme – advising place-based partnerships on systems change approaches.