Four themes emerge in first City and Hackney anchors network workshop
The first meeting of the City and Hackney anchor network brought together representatives of large institutions from the borough to explore the possible economic and social benefits of combining forces.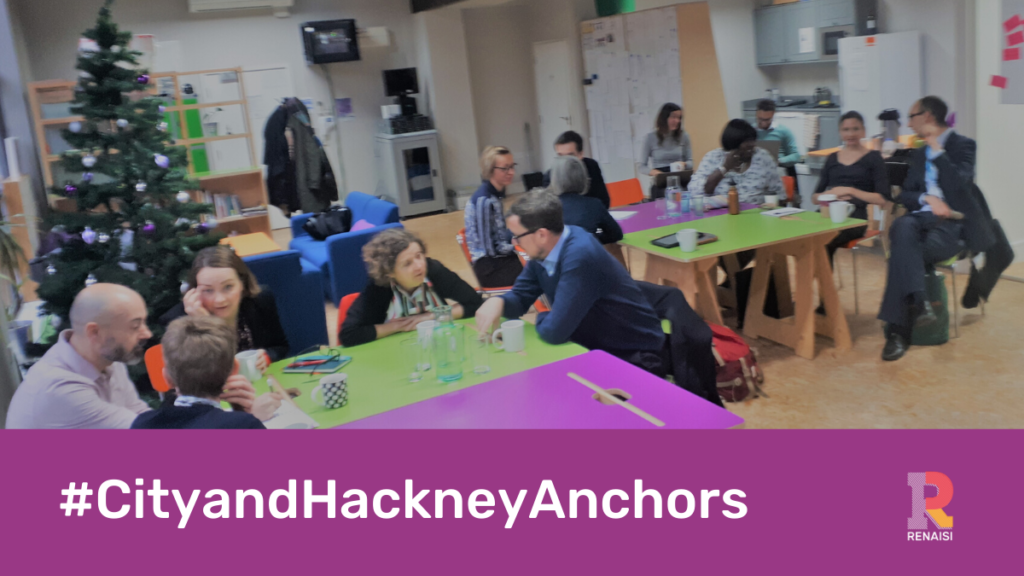 Anchors are typically – though not exclusively – not for profit organisations that are fixed in a location because their purpose is intrinsically bound up in that area. Julia Slay led the first City and Hackney anchor network workshop to share ideas about what they might be able to achieve collectively.
Participants included East London NHS Foundation Trust, City and Hackney CCG, the Corporation of London, Homerton Hospital, the GP Confederation, Peabody, and Hackney Council.
How could an anchor network serve City and Hackney?
Four themes emerged as issues of interest for the anchor institutions in the borough.
Employment and skills development
Employment was the most cited focus of the anchor organisations, but it came up in several different forms including how they – as large employers for the area – can:
reach people who are not accessing pre-employment support or apprenticeships
ensure those in entry level jobs are given opportunities to progress within the borough
predict future workforce needs to drive skills development or talent retention
create inclusive and diverse leadership within the anchor organisations.
We're interested in exploring all these issues as part of a long-term anchor-network workforce strategy.
Access to affordable childcare.
Childcare is a major barrier to people taking up employment. Participants in the workshop were interested in exploring what an affordable childcare model could look like and whether there is an opportunity for local ownership of a childcare solution.
Leverage assets and infrastructure.
Participants were asked to consider how they could use new and existing infrastructure and assets (such as disused or under used spaces) to benefit local people.
Could the NHS neighbourhood structure present an opportunity to invest in the local community, by strengthening and managing the different spaces across the borough?
Could a locally curated and managed'traders directory' help to retain wealth within the borough and set out clear standards, such as Living Wage expectations?
Could this same platform support those traders to build assets and develop skills for the future workforce?
Is there an opportunity collaborate on procurement, like the Preston model, and use this to build in pathways to employment through provision of services to the anchors?
Improve wellbeing.
We discussed several public health issues, including suitable housing, which is one of the biggest determinants of wellbeing and a significant barrier to employment for some people. There is a need to think differently about availability, access and quality in both the private rented sector and social housing in Hackney. Is there a preventative, public health-based approach to social investment in housing?
Serious youth violence is also a concern for the people working in City and Hackney anchor organisations many of whom also live here. East London NHS Foundation Trust (ELFT) has started working with their staff on how they can respond to this issue. Could anchor organisations work together to reduce poverty and inequality, and increase social cohesion, by rethinking their procurement and recruitment strategies?
Finally, should the network invest in place-based giving and strengthening of the local voluntary sector to improve support for people's wellbeing across the borough?
What's next?
Almost all the anchors that attended are doing something relating to these four issues and collaboration is already being considered. For example, Hackney Council and health partners are exploring having one 'front door' to employment in the Hackney public sector which would make it easier for local workers to transfer across organisations more easily.
In the coming months, we'll be delving deeper into these issues, learning from other locations and exploring what collaborative action the City and Hackney anchor network might take on these issues. We'll share the learning from this work regularly.
Sign up to receive email updates:
You can also follow @Renaisi, @Juliaslay and #CityandHackneyAnchors on Twitter.
Want to find out more?
Contact Julia Slay on: