Louisa Mitchell encourages use of the framework for place-based systemic change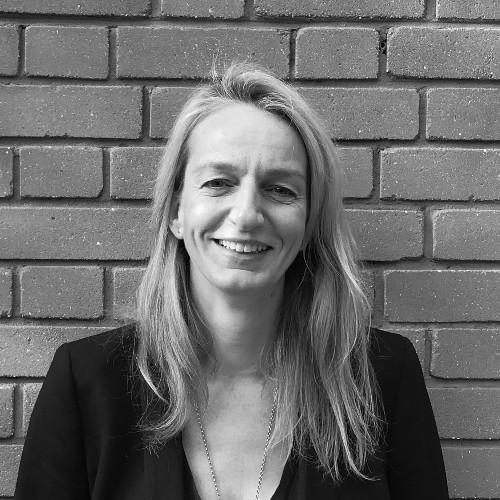 Louisa Mitchell, the Chief Executive of West London Zone, says those engaged in place-based work may find it easier to communicate what they are aiming for if they adopt the PBSC framework's language and benchmarking.
The Funding Place Based Systemic Change project brought funders and charities, including West London Zone, together to explore how to best manage funds to support long-term, place-based systemic change (PBSC). The resulting learning reports include a framework and language for how to progress place-based systems change.
Developing the framework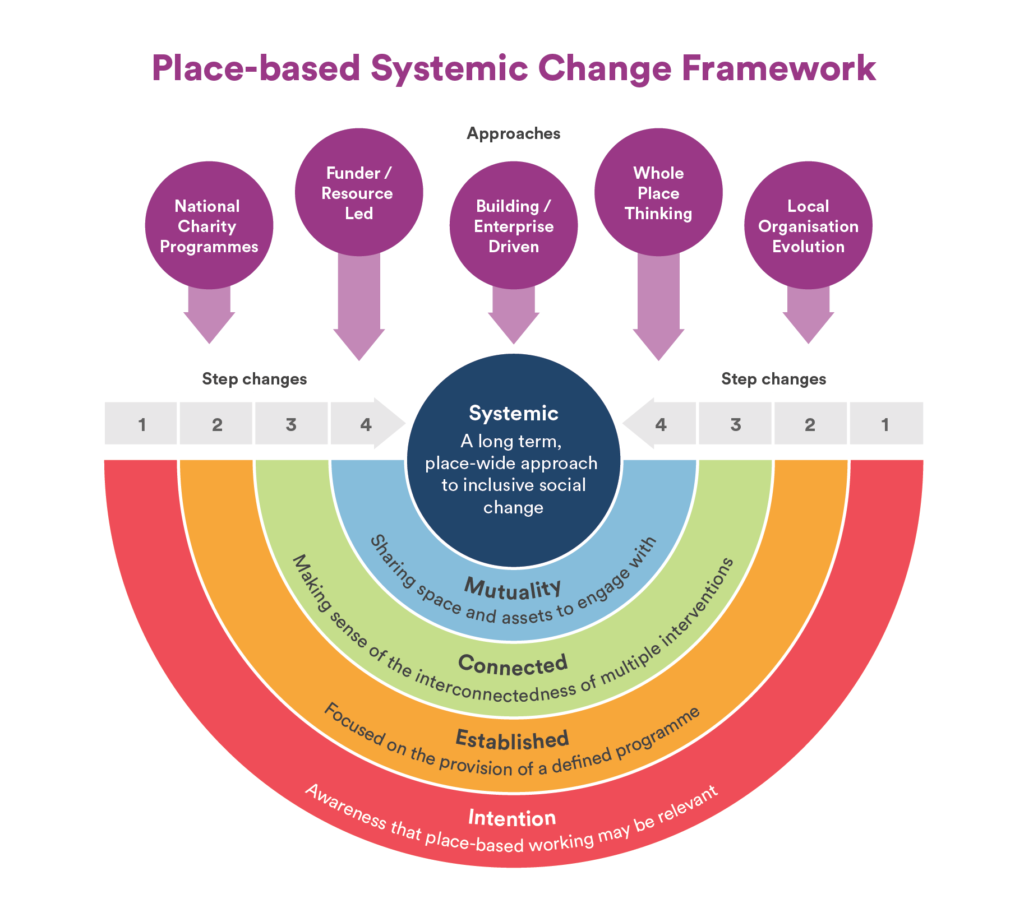 The framework was a core output of the research, and I hope the Renaisi team won't mind me saying that they had to work very hard to get to it. They exercised exemplary patience as they developed their own views through the course of their detailed research and then listened to the differing views of the steering group, digested and reflected them all. There were several iterations of the framework diagram ranging from bubbles to funnels to the final output – in my opinion the strongest of all versions.
That process was an exact manifestation of why place-based systemic change work is so challenging. Everybody has different definitions and views about what it is and how to achieve it. There has been a range of initiatives with varying success, and everyone is still finding their way.
Starting with systems change thinking
When we set up West London Zone for Children and Young People, our place-based initiative in the community around the Harrow Road (crossing Hammersmith, Kensington, north Westminster and south Brent), our aim was to change the system so as to prevent children falling through the cracks and enable them to improve their outcomes in life.
We developed our model with a laser focus on the outcomes we wanted children and young people to achieve so as to enable them to get on track to thrive in adulthood. The defined outcomes are the core building blocks in the collective impact model that we deliver today.
Every day, we asked ourselves if we were creating and adhering to the five mutually reinforcing Collective Impact conditions: a common agenda, a shared measurement system, mutually reinforcing activities, continuous communication and strong backbone support.
Our systems-change thinking quite rapidly became a very practical, direct delivery and partnership co-ordination model for each individual child we work with. Our direct delivery team of trusted adults (called Link Workers), are based full time in a school. They see the children every day and know them really well, setting them goals to achieve, and managing a highly structured, personalised 2-year programme of support for each child. Our partnership of charities working locally provide the specialist support in each child's plan designed to enable them to build the skills each child needs to progress – therapy, drama, literacy and so on.
Everyone involved is laser focused on every child improving their outcomes in life. This focus has been key to our development – for example, every time we have a problem, we bring the dialogue back to individual children's cases, and pretty much every time we do that, we solve the problem. Because everyone engaged in this work ultimately wants every child to achieve better outcomes.
So I am big believer in focusing on the outcome to achieve it. Otherwise it's very difficult to make clear decisions about what will – and usually more difficult, what won't – get you to where you want to be.
Developing a common language about place based work
We all work to different outcomes, so a common language around approaches to place-based work, understood and used universally, would be useful for us in communicating and benchmarking where we are in our development as a place-based systemic change initiative.
These complex initiatives take time to develop because they focus on relationships and making these purposeful while staying flexible. It also takes time to establish and demonstrate the impact – the outcomes which the children and young people who participate in West London Zone are now achieving in wellbeing, peer relationships, confidence and academic attainment, have taken several years to come to fruition.
During that time, we had to work really hard to keep the momentum going, to keep convincing people that we really were getting closer to delivering those outcomes. I believe our path might have been easier if we had been able to use the common language of this Renaisi approach.
We currently sit across several of the approach categories in the framework: 'funder/resource led', 'whole place thinking' and 'local organisation evolution'. Perhaps more interesting from a West London Zone perspective is the 'step changes' in the framework. If we had placed ourselves within the various step changes at the right time, in the right conversations with funders, mutual understanding would have been enhanced.
I can imagine saying 'we have moved through the connected phase' because we now understand how to bring interventions together around an individual child and deliver in a coherent and joined up way, and 'we are moving into the mutuality phase' because we now have multiple partners delivering into each child's individual support plan cohesively working towards the shared outcomes framework.
In the Renaisi framework, we are still in 'mutuality'. While we have the 'systemic' vision of 'a long-term place wide approach to inclusive social change', our level of accountability at the moment is with each individual child. We are just entering into strategic discussions on what the accountability might be for systemic change in our place.
Using the framework for place-based systemic change
As I continue to look for funding and support for West London Zone, I shall use the Renaisi framework of step changes to explain how we have moved through those changes, and why perhaps for us, mutuality to systemic is the biggest step of all.
To move into that blue 'systemic' circle, we would need to keep doing what we do really well – our practical and individual-child focused delivery – but also define the system more clearly to determine our role and accountability in rewiring parts of that system.
Every single one of these step changes is massive. This framework is a really useful tool to start to root the discussion on place-based systemic change in something across which we can benchmark, and start to communicate more consistently.
I encourage all of us working in this space to try it out and see if we can make progress in our mutual understanding of what place-based systemic change means, how we can enact it and how we can achieve the outcomes we are aiming for.
About Louisa Mitchell
Louisa joined West London Zone to design the plan and implement the pilot project in White City in 2015-16. She became Chief Executive in September 2016. She has extensive experience in social policy research and advocacy and in managing charities in London and Hong Kong. Prior to that, she was in finance.
About West London Zone
West London Zone's vision is of a west London community where all children and young people have access to the support they need to enable them to overcome challenges and achieve their goals.
Working in an area of inequality, West London Zone provides a personalised 2-year programme of support for every child they work with so that they each get the right support in the right way at the right time.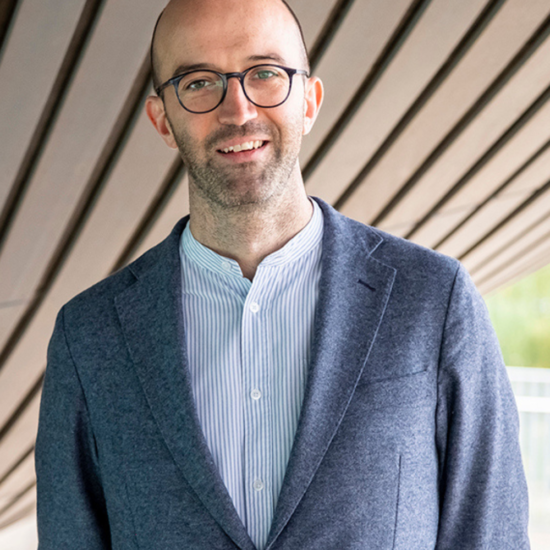 Want to find out more?
Contact John Hitchin on: