Findings from the evaluation of Paul Hamlyn Foundation's Youth Fund
Renaisi's evaluation of Paul Hamlyn's Youth Fund explored the features that make the Fund unusual and the challenges that those features posed for understanding its impact.
Paul Hamlyn Foundation's Youth Fund supports organisations whose main purpose is to help young people (aged 14-25) who face complex transitions to adulthood.
Over three years, we explored three characteristics of the Fund that are fairly unusual in funding programmes:
Provision of core funding, so that organisations have more control over how grants are spent
Supporting strongly values-led organisations that use 'asset-based' approaches to work with young people, alongside working to achieve specific outcomes
A focus on organisational development, but without requiring organisations to 'grow' if that is not appropriate
These posed three challenges for the Foundation, which we explored in a series of evaluation reports.
1. If you provide core funding, how do you know what impact it has?
We developed a framework for thinking about what funding will contribute to in terms of core costs, and what impact this contribution aims for at organisation level, for young people and more widely.
You can explore the framework and what we learnt in more detail in this summary paper on core funding.
2. If you have a values-driven fund, how can you identify whether an organisation embodies those values?
The challenge here was one of definition; what does 'asset-based' look like in practice? We created a framework to help organisations identify different ways in which they can apply asset-based working in practice.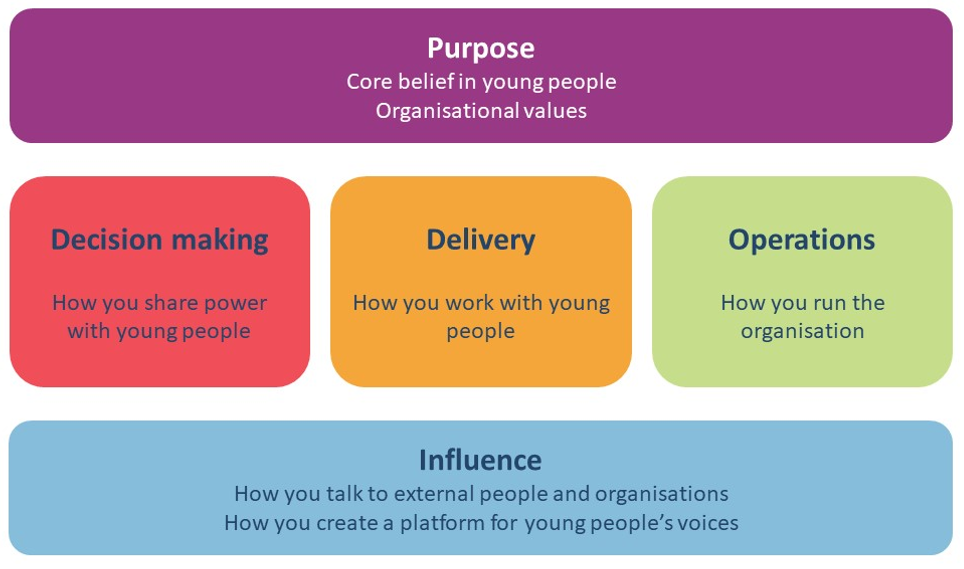 The framework shows where asset-based approaches can be embedded into an organisation's work. It is intended to prompt organisations to think about the different ways they might embed asset-based approaches rather than prescribe how or where to do it.
You can read more in this paper on asset-based work with young people.
3. If you support organisations at various stages of development, how do you know what 'progress' looks like?
The Youth Fund supports a diverse cohort so it is not possible to assess everyone against the same criteria.
That meant we had to think differently about how to evaluate whether the Fund had helped the cohort as a whole to progress. Paul Hamlyn Foundation asked each funded organisation to set three objectives: one related to the young people they are working with and for; one related to organisational development; and one related to wider impact ambitions, so we used qualitative methods and to understand the ways they used the funding to achieve these objectives.
We learnt that the impact for young people is often more of an indirect result of funding and through a focus on and investment in organisational development, the quality and/or reach of an organisations' work is improved.
Read more in this summary paper on supporting organisations to sustain or grow their impact.
If you would like to find out more about the evaluation insights and issues highlighted here, there is a funders workshop on Tuesday 18 February – please get in touch with Andy Curtis, Research and Evaluation Manager at Paul Hamlyn Foundation, for more information.
Publications
Paul Hamlyn Youth Fund Evaluation: executive summary
Supporting organisations to sustain or grow their impact
Asset based work with young people
Want to find out more?
Contact Alice Thornton on: