Social Enterprise as an act of inquiry
A new strategy for Renaisi
Over the past nine months, I have had the job of running Renaisi. That time has come in three very clear phases for me:
Phase 1: Working out the job and the problem
Phase 2: Leading a process of creating a new strategy
Phase 3: Beginning to make the changes to make that strategy real
I've written about phase one and phase two a little already, and I want to spend a little time here kicking around the thinking that shaped the move from phase two to three, and what has influenced how we're doing it.
Why Renaisi?
The big question for me was: why does Renaisi exist?
I've talked about that before, but there are no easy answers here. It's not for shareholder value or charitable purpose, and given the diverse portfolio, it's not really clear what the precise social objective was. But there is a history (twenty years of it), an impressive team of colleagues, lots of client and stakeholder goodwill, and an enormous amount of past work and institutional memory. The one thing that ran through that was the idea of place (which I'm going to come back to).
The result of this has been a strategy and business model structured around one question: what does it take to improve a place?
What this means is that we're splitting how we see our work into two core 'clients' (groupings). We've done these for a while, but we're simplifying it down).
Services: We provide services to individuals, supporting people (many of whom are excluded, ignored or unsupported) back into work or training or help them to engage with services and their community.
Consulting: We provide consultancy to social organisations to help them improve, adapt, rethink and move their work on.
We do these things because we want to gain intelligence and insight from those two 'clients', which will then help us to both improve the other side of our business (the other 'client'), and to help us develop new answers to the question: what does it take to improve a place?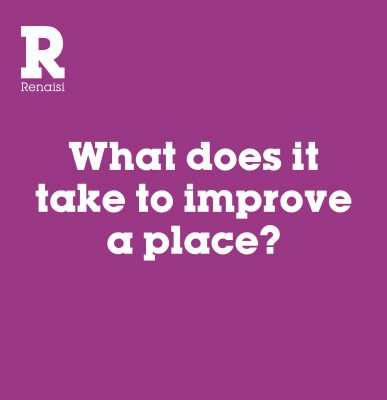 We are a social enterprise that trades two core products, and that uses both the finances and the information from this work to support our wider objective and mission. You could do both bits of Renaisi very well as a private company or a charity, but we think there's something particular about our social enterprise structure that supports our business model.
What this means is that our values are shifting (to be published soon, but they now include curiosity as it's essential to inquiry). This means our teams have to rethink how we all work together to implement the learning from each client group to cycle around the business. Our funding strategy is also shifting as the two engines of our business model have both financial and learning/ intelligence objectives.
All of that feels good, positive and quite exciting. It's still very challenging to operate in the social sector at the moment, with budgets as tight as they are and demand shifting and evolving all of the time, but I'm really positive about our plan and we've got great people here who I can't wait to unleash on it.
What do we mean by this new approach?
I want to highlight two projects that really demonstrate what we mean by our new approach:
Our RISE programme, jointly funded by Big Lottery and the ESF, launched in April 2017 and saw us develop learning from two key experiences. We draw on the experience of working with migrants in London who don't speak English and our experience of supporting people into work. We used this learning to built a more holistic programme for refugees, structured around both the needs of a population we know well, and focussing on meaningful change for refugees in the capital. By building a programme of learning into this in partnership with the Institute of Employment Studies (see a recent article about their work), we also layered our experience of evaluating services onto that. We've got lots more to learn, but it's an approach that we feel is positive and worth exploring.
We are currently working with Gingerbread, evaluating some of their work in Kent and Essex. At the same time, we are working with the team to understand how to learn from approaches in these programmes that are relevant to their wider services and work. This is only possible because we have practical experience of evaluating projects, running learning programmes and delivering services.
This – plus our 20 years of experience – give us some insights that we can start to apply to our question, which forms the base of our new strategy, our driving purpose.
Some answers
At our 20th anniversary this spring, we'll be launching 20 essays on the question of 'what does it take to change a place?'. We've got some fabulous authors lined up to give their take on that question and we've got some plans for how to get different perspectives and voices into the debate as well.
We think that there is a new move to thinking about spatial considerations in funding and design of services again, but we are going to be spending the rest of this year trying to raise the standard of debate about this work. And that's not because we think we have the answer (there isn't one answer to our question), but because we're not yet convinced that good questions are being asked about 'place'. And for me, that is why our driving purpose being a question is so important. There will be much more to come from us on this front.
Campaign Teaser Essay
As a little teaser to our 20th anniversary essay collection and celebrations, we are excited to trail our campaign with the first essay in our series, written by Alex Smith, Founder and CEO of The Cares Family, which you can read here.