Our Team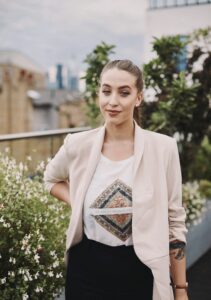 Nastasja Rejc
People & Operations Assistant
Nastasja Rejc
I joined Renaisi in October 2022 as People & Operations Assistant. I work closely with Marie Nichols, People and Learning Manager and I support Motiur Rahman, Finance and Operations Controller. I was always a "people person" therefore this role aligns well with my interests and skills, and I am looking forward to contributing to company's growth.
My Previous Experience
In 2017 I got a Personal Trainer license back home in Slovenia and my job at the time as personal/group exercise trainer inspired me to study Wellness, where I could deepen my knowledge about general wellbeing – physical, mental and spiritual. I graduated in 2020.
In the UK, I challenged myself in Bank Advisor role at Metro Bank PLC where I would find myself opening business and personal bank accounts, dealing with confidential information, following standard GDPR procedures etc.
Last year I went from big, corporate company to smaller, family business where I supported Head Office on Business Development side. I was more so talking to suppliers, was responsible for the stock and I sought opportunities for business growth on daily basis. As I enjoyed maintaining great relationships with colleagues and supporting them, I realised that is my passion and I applied for my current role at Renaisi.
Hobbies & Interests
I love to dance since kindergarten. Listening to music and dancing is my favourite way to spend free time. I also like to talk to my friends over a cup of coffee, spending time in nature, especially hiking – nothing feels more rewarding than the great view at the end. I also love to read a good book and watch documentaries.