Our Team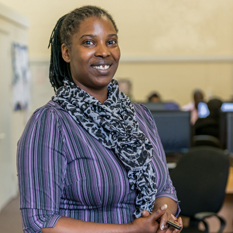 Maria Logan
Team Leader
Maria Logan
I am the Team Leader for the Inspiring Families Programme at Renaisi. Where I engage with families and support the adults into sustainable employment and source relevant training courses.
My experience and skills
I have 15 years' experience within the welfare-to-work industry. I have previously worked as an Employability Skills Tutor, Job Search Tutor, NDDP Advisor, Employment Outreach Advisor, Employment Support Officer and a Personal Advisor with various organisations such as Kennedy Scott, Instant Muscle, TBG Learning, Tendis, Seetec and Prospects to name but a few. I have worked on numerous government contracts, including New Deal, ESF, Programme Centre, Work Choice and the Work Programme.
My interests
My interests are breeding tropical fish, I enjoy reading autobiographies and fictions. I enjoy watching nature documentaries and developing my knowledge of the world. I am a music lover, and I listen to a wide range genres. My life's moto is to treat others as you would like to be treated!