Staff Resources
Welcome to the Resource Hub!
Via this page Renaisi staff can access information and links to policies, information, useful resources and some fun photos.
If you cannot access any of the information on this page, speak to your line manager in the first instance.
Information Sharing
Everybody should read the Staff Handbook and induction pack.
We store all our files on Sharepoint. Bookmark or pin this link to your laptop browser: https://renaisi.sharepoint.com/SitePages/Home.aspx
We publish a staff newsletter that contains news from across our social enterprise, new starter announcements, and shout-outs to colleagues.
Read the April 2022 newsletter
Read the March 2022 newsletter
Read the February 2022 newsletter
Company Policies
All policies can be found on Sharepoint at Renaisi Policies.
If you have questions about policies
Contact Marie Nichols on:
Pay and benefits
We get paid on the 15th of each month, 2 weeks in arrears and 2 weeks in advance (so each pay date where you work a full month you get paid from the first to the last of the month). If the 15th falls on a weekend you will get paid the Friday before.
Staff within their probation period (6 months) are entitled to one-week company sick pay and then Statutory Sick Pay. Please read the Sickness Policy for full details on sick pay and cases where discretion can be applied
Everyone at Renaisi gets:
Pension scheme with 6% employer contribution. You will be enrolled with the NEST pension scheme from your first salary payment. You will receive details direct from NEST on how to opt-out if you want to
25 days holiday entitlement + 1 day per year of tenure (max 5)
5 days paid CSR (or volunteering) days per year
Employee Assistance Programme through Health Assured EAP
Access to Renaisi's Wellbeing Pack
Opportunities for progression
Formal and informal opportunities for learning and development
Flexible working
Cycle to work scheme and season ticket loan
Key contacts
Our IT Support comes from CoopSys
T: 0207 793 0395
Facilities and the office are managed by Motiur.
Finance is managed by Motiur but you should direct any salary queries to Marie.
The Consultancy Team is led by 4 x Principals, Anna, Mylene, and Lily.
Place and systemic work is led by Beth Stout.
Employment & advice services are led by Natsayi Sithole.
Staff Initiatives
There are 3 internal initiatives groups, which are open to all members of staff to join:
Staff socials
As a company, we meet at least twice a year for a mixture of learning and fun. We also have regular team lunches, and outings.
Check out photos from the October 2022 away day: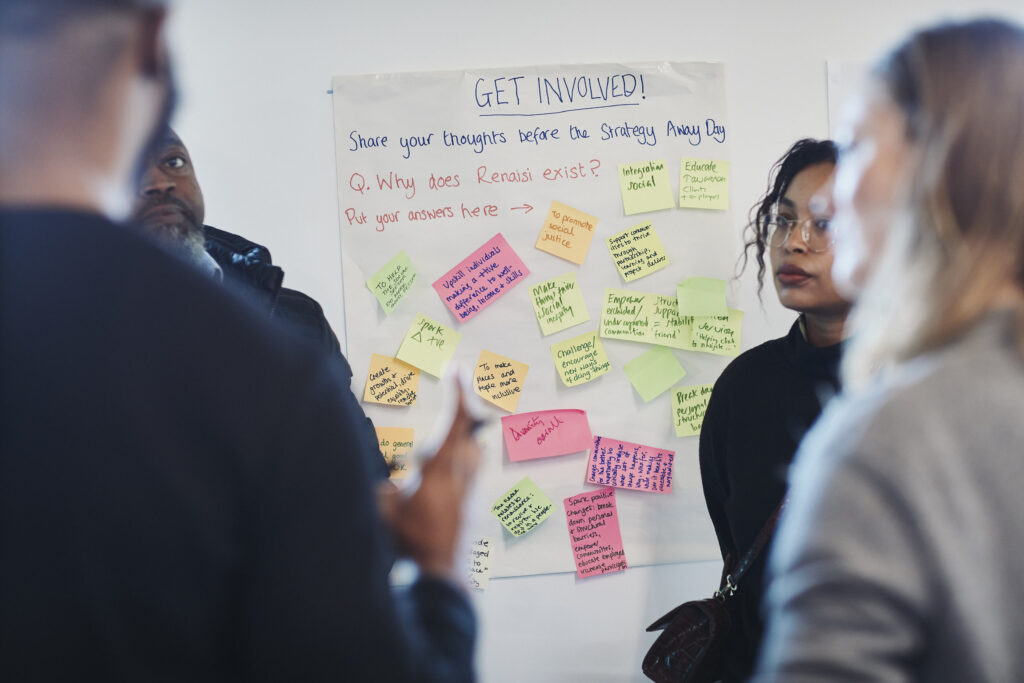 Questions or comments about the Staff Resource Hub?
Contact Marie Nichols on: