#2 Week Notes – week beginning 7th October
Thanks to those who shared a positive response to week one. It has encouraged me to keep going…
New staff
This week I sat down with two new colleagues to get to know them and what brought them to Renaisi. John Williams is a new member of our consultancy team and has joined us through the Worthwhile programme, and Shahina Jaffer has joined our marketing and communications team. I'm in the process of rethinking and rewriting our staff handbook, as it's currently not very good at a few things. One of those is guiding and orienting people around the business in their first few weeks. Talking is part of that, but we definitely need to keep thinking about how we get people in and happy as quickly as possible. I'm confident that John and Shahina will be great additions to the team, and am looking forward to working with them.
Thinking about place
I think about the role of place in policy and public service delivery quite a lot (!) It's such a key part of our strategy and purpose as an organisation. I was, therefore, delighted to be invited by Jill Baker of Lloyds Bank Foundation to join a group that would explore the issues of place and scale over the coming months. This is being facilitated by Michael Little (of Ratio and previously Dartington) and involves funders, local government, large charities, research consultancies and other people engaged in the challenges of working in place well, and of scaling ideas out of places. I'm going to be talking about these issues a lot in the coming months, and it was great to be involved in the first session.
Experts by experience and organisational development
I caught up with the steering group for a piece of work we're doing for Barnardo's, which is aiming to create new approaches/ policies/ cultures within the organisation that enable them to be more likely to recruit young people with experience of care into the different teams across Barnardo's. This is a significant project, within a very large organisation, and we're only halfway through. But it is opening up questions that are pertinent to much of our sector, including: how do we think about and value lived and learnt experience, and; how can institutions provide support as people move from a 'beneficiary' category to a 'colleague' category?
The support question is one that Barnardo's are starting to think about across the whole organisation, from staff to volunteers to the young people they work with. I enjoyed going to the launch of the Barnardo's University on Thursday, which is part of their strategy to achieve that. It was great to see some internal, learning focussed ambition from such a large charity. It was also a real treat to meet a young woman who had made a cake for the event. Renaisi colleague Mo Kamara helped her set up her cake-making business, I remember her bringing them into our offices a few years ago.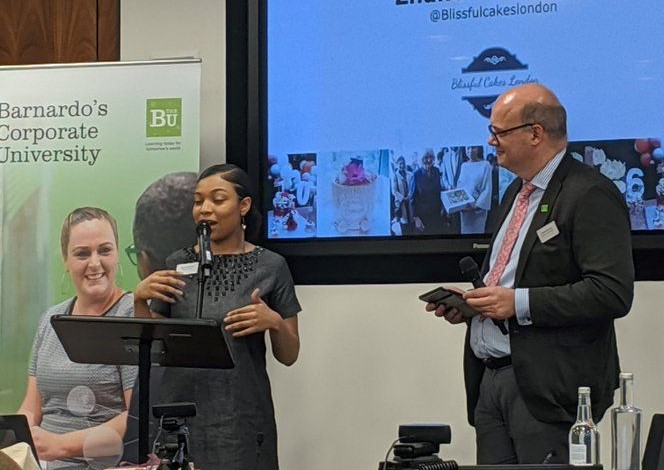 Finance meeting
It's halfway through our financial year, which means a big review of where things are, and what we know about our performance and pipeline of work. The joy / challenge (pick one depending on the day) of our work is that we have two completely different business models within our organisation. One side of our work is day-rate based, and the other is performance and outcome-based, and we are constantly trying to get the balance right of how much work to put into understanding our position, versus just doing the work. Colleagues have done a lot of work in the last two years to improve the clarity of data, but it can feel like a Sisyphean task.
Hackney strategies
I mentioned last week our work in City and Hackney on anchors. Well, I'm very pleased that we've published a blog post about that work, and are now gearing up to a launch event. Julia Slay and I met with the project sponsor, the MD of City and Hackney's CCG to progress our thinking, and on the same day, I attended a meeting of the Community Partnership Strategy Board in Hackney. This event explored ambitions around the inclusive economy in Hackney and hopefully helped the council think about their forthcoming strategy. There's a lot of interest in this agenda, and as ever in Hackney, a lot of impressive people and organisations keen to make positive change.
Reading, listening and watching
I've been listening to Nick Cave's new album Ghosteen, over and over again. It really is as beautiful as all the reviews say it is.
In light of some of my Hackney conversations (see above) I've been re-reading this by Bruce Katz from the start of the year. It's reminding me of the need to be ambitious in the creation of new institutions to solve today's problems.
I found a conversation about loneliness between Ezra Klein of Vox and Vivek Murthy (a previous surgeon general of the US) really insightful and, at times, challenging. Loneliness comes up in a lot of work, with organisations like the Cares Family and the Reading Agency, and this conversation got to the heart of why it is so important to engage with and challenging to really understand.
I have been reading the LRB since my partner bought me a subscription as a Christmas present when we first met. That's getting on for 14 years of my life now. As they turn 40, I've been trying to find time to read the bumper anniversary issue. My nine-week old daughter is limiting the time I have to do that, but I'm not complaining.