Steve Coles: Wellbeing in Shoreditch
It's obvious, when we stop and think for a moment, that lots of problems we face personally and societally are complex, deep-rooted and multi-faceted. However, in a culture often dominated by speed and segregation: sound-bites, quick-wins, winners and losers, left and right, right and wrong, 24-hour news cycles and 5-year terms, we need to recognise that we need to get a lot more comfortable with thinking long-term, and with collaboration, creativity and common ground.
Last year two major changes happened in my life. I took on the role of CEO of Spitalfields Crypt Trust (SCT), an addictions recovery and homelessness charity, based in Shoreditch in East London, and I turned 40. In reflecting on those changes, I can see that I'm increasingly comfortable with the solution to many challenges, societal and personal, involving a 'both/and' not an 'either/or'. The more I think about what it takes to improve a place and to improve the lives of people in a particular place, the more I'm realising that it's about both outside and inside, public and private, tangible and ethereal, structured and flexible.
I'll expand on just a few of those ideas here with the hope that I grow wiser in trying to collate my own thoughts, and that I provide some food for thought for others.
At SCT we take a multi-faceted and integrative approach to recovery from addiction, which is about improving, if not transforming, life and the places in which that life was and is lived are foundational and pivotal.
Looking at it through a lens of wellbeing research – what makes people happy?
Before going further, we need to be conscious about the lens through which we might judge 'improve' or 'improved'. That is about checking and recognising our privilege. I am a home-owning, educated, able-bodied, 40 year old, white man and so need to listen hard to the voices of others. And I need to work hard to put aside my assumptions. While this may not be a perfect approach, I suggest one way of addressing this is to look at what an improved place might look or feel like through the lens of wellbeing research; research that has now involved hundreds of thousands, if not millions, of all kinds of people all over the world over the last forty years or more in order to determine what makes people happy. A place might therefore objectively have been improved if people are happier there and have a sense of higher wellbeing there, than they did before.
Wellbeing research suggests that contact with the natural environment is beneficial for wellbeing[1]. Being outside, working in a garden, seeing beautiful flowers and so on have positive effects on physical and mental health, and can provides spaces for fun, building friendships and sanctuary.
At SCT, we have a Green Flag Award-winning garden in which those in recovery learn skills and find therapeutic benefits. And it improves the place by being a beautiful space for the community.
It is not just the outside that matters. Conditions inside buildings and homes really matter too. Lots of the people who have experienced homelessness that we work with have also had time in unsupported temporary accommodation. This accommodation is often woefully inadequate and inappropriate, making one's experience of that place utterly miserable. Mental health and physical health decline in poor accommodation[2] and so at SCT and in our little patch of London, we want to provide accommodation and routes to housing that improve life. We only work with Housing Associations and partners that understand the importance of quality, place and community to residents. And the inside of buildings does not just relate to houses and homes, it relates to offices, institutions and public spaces.
Check out the Bromley by Bow Centre, where their GP surgery includes a café and intentionally has a welcoming, free-flowing, deinstitutionalized structure that invites the community in and puts the community at the heart of their health care provision[3].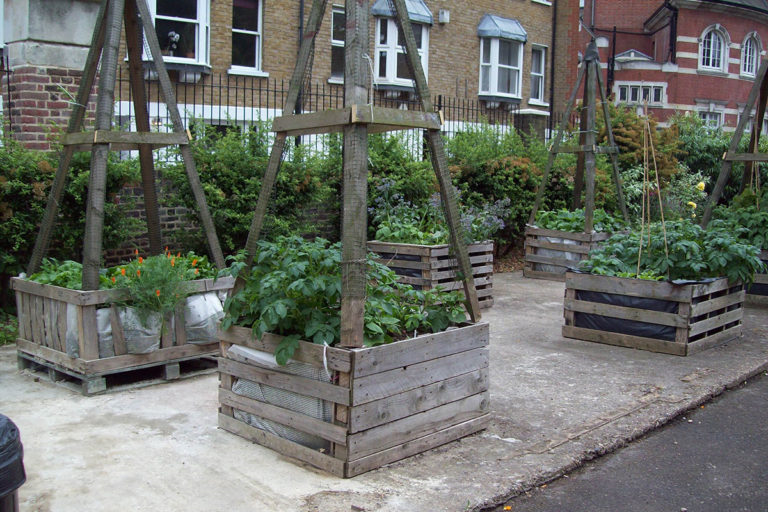 Stability in a place and friendships
Stability in a place also really matters. The severe shortage of housing in London or, more specifically, the shortage of genuinely affordable housing in London, is upsetting, unsettling and unhelpful to those who have experience deprivation and/or who have complex, multiple needs. Those we work with from Tower Hamlets who have found themselves homeless often want to stay in Tower Hamlets, those from Hackney often want to stay in Hackney and the thought of being housed in another borough is upsetting enough, let alone the distinct possibility of being moved right out of London.
Friends really matter in a place and they improve wellbeing immensely[4]. It takes time to build friendships and it takes 'gathering points' – cafes, pubs, gardens, community centres, playgrounds and more. These things take time to build, don't always generate an income and are easily sold or their budgets cut, but to significant detriment, which may span generations. At SCT, the fact that staff, volunteers, students, residents and other stakeholders walk past each other, see each other in Paper & Cup, our social enterprise coffee shop, have meals together, celebrate and grieve things together all really matter. They are worth investing in. In our work at SCT, building and supporting a recovery community (a peer-led, peer-support group for those at various stages of recovery), which is deeply rooted in a particular place, returns £5.19 of social value for every £1 invested.
SCT has been around for 52 years now and we're still learning and improving. We do that by listening to and intimately involving those with lived experience so that the voices and perspectives of those on the margins are included and valued. We would really like the problems of homelessness and addictions to be eradicated, but until they are we're going to keep providing holistic services to address complex needs, with care, creativity and compassion, inside and outside, so that we improve our place in the world and the lives of those with the greatest need in that place.
[1] http://www.wildlifetrusts.org/sites/default/files/wellbeing-benefits-fr-nat-env-report-290915-final-lo_0.pdf
[2] https://justthinkinguk.files.wordpress.com/2014/12/not-home_dec2014.pdf
[4] https://youngfoundation.org/wp-content/uploads/2012/10/Taking-the-Temperature-of-Local-Communities.pdf
About the author:
Steve is the Chief Executive of Spitalfields Crypt Trust. They work in East London and provide practical help, support and training to people who have been homeless and suffering from addiction, poverty or social isolation.