Rowan Longhurst: The Queen Elizabeth Olympic Park
Improving a place takes on a very different perspective when the place is so new. Obviously, this area has always been on the map, but the part of London that has emerged after the 2012 Olympic Games is completely different to what it looked and felt like prior to London winning the Games in 2005. The physical environment is different, the history and our collective memory of the place have been changed by those weeks of sport, and there has been a radical increase in investment. So, what, in this context, does improving really mean?
The importance of place
Established in 2014 when Queen Elizabeth Olympic Park reopened Our Parklife CIC has been working in partnership with the London Legacy Development Corporation (LLDC) and local communities to ensure that East Londoners benefit from opportunities to volunteer, work and gain new skills on the Park. We think that there is something special about the opportunity of a new public space, and that can improve the lives and experiences of the people who live and work in and around the park.
Building on the volunteering legacy
We have particularly focused on our Park Champion Volunteer programme, which highlights the importance we place on delivering well managed, meaningful and fun volunteering opportunities on and around the Park. The Games Makers were such an iconic part of the Olympics, that having voluntary activity at the heart of this new place felt essential. Our proud volunteers are the face of the Park, exuding energy, enthusiasm and passion, dedicating over 16,300 hours of their time to customer services, mobility services, events, community guiding and horticulture in 2017. If you come to the Park, you will almost certainly meet and interact with a Park Champion. Our volunteer help shape the programme directly and we're proud that we actively involve them in what we do and how we do it.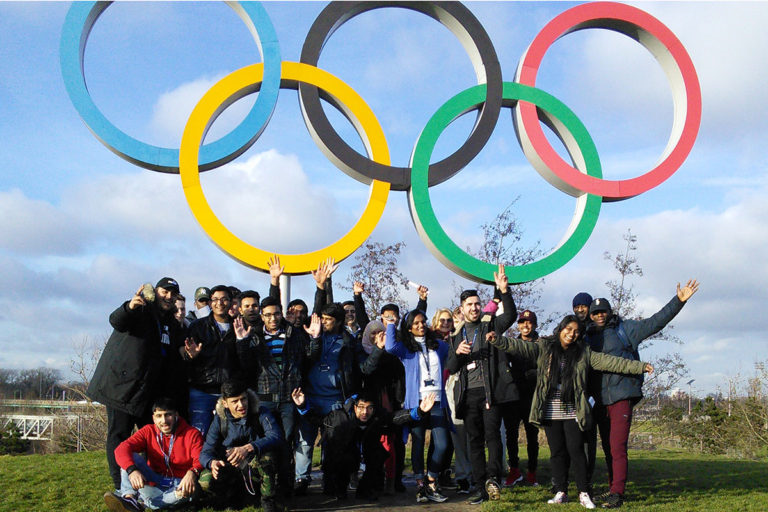 Links to new opportunities
New investment means opportunities. But they're not always for everyone. We have worked hard to ensure that employment opportunities are targeted at local communities and are proud that over 68% of the team, that looks after the Parklands and venues, come from the host boroughs of Newham, Tower Hamlets, Waltham Forest and Hackney. We have provided over 300 training opportunities to those volunteering or working with us on our employment programmes. This included individuals with long-term health conditions or a disability.
A unique and successful partnership
The unique mix of expertise that stems from our founding partners (ENGIE, idverde UK, Groundwork London and Renaisi) enables us to design new and innovative services and ways of working with Park partners, such as the LLDC. We emerged out of the contracts that were developed after the Games but we are viewing the long-term community that is building around the Park as our mission. Our aim is to create measurable, positive social impact for local people, through how the Park is managed and maintained, by involving local people in services, activities and events. The income we receive for the services we provide is reinvested in realising our aims.
Our Parklife's success has been recognised more widely in being 'Highly Commended' in the Experian Award for Building Stronger Communities in the prestigious Business in the Community Responsible Business Awards.
Whilst there are certainly many things that are unique to our work in the Park, there are some themes that feel transferable to this ultimate question. What does it take to improve a place? For us it means an acceptance that the place matters and is worthy of our collective efforts; it means clear programmes to allow people to bring their abilities, skills and passion to that place; it means that opportunity is available to all as a result of new investment; and it means building new partnerships that can coalesce around the sorts of purposes that matter to the place. That's what we're trying to achieve on Queen Elizabeth Olympic Park, and that's what improving a place means to us.
About the author:
Rowan is General Manager of Our Parklife CIC, which is a social enterprise on Queen Elizabeth Olympic Park designed to help deliver the legacy of the 2012 London Olympic and Paralympic Games.
Renaisi was a founding partner of Our Parklife and continues to work with it as a board member.
Twitter: @rowanlonghurst